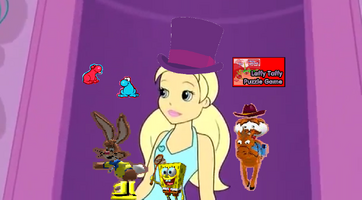 PollyPocketFan78 is a girl who is the founder of this wiki about things related to the 3D Groove Engine. She has a YouTube Channel where she makes meme videos and gameplays.
Trivia
[
]
78 is her favorite number
The Polly Pocket dolls are her favorite dolls even though she also likes Barbie, Monster High, Ever After High, Littlest Pet Shop, Shopkins, My Scene, My Little Pony (both Friendship is Magic and Equestria Girls), DC Superhero Girls, and Bratz (mostly the Starrin and Stlyin style versions).
She makes gameplays of games that run on the 3D Groove Engine, Wonka Games, and two Everythinggirl games. If a MEGA folder gets made by someone (doesn't have to be Tomysshadow it can be anyone) who has a majority of the Everythinggirl.com games she'll do more gameplays of those because just like with 3D Groove's Games and the Wonka Games she grew up with them.
She also saved some of LostMediaHub's videos after he removed them and she re uploaded them on her channel
Of all of the 3D Groove Games that are still lost she wants to play is Pringles Pony Express the most. She's willing to wait for when someone finds it.