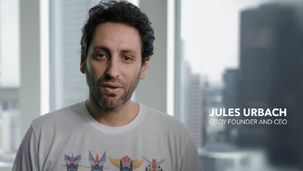 Jules Urbach was the co-founder of The 3D Groove Alliance. He is the current CEO of OTOY, which is now focused on their OctaneRender engine and VR technology, which has been announced to soon be implemented in Unity Engine. In 1998, Urbach co-founded The 3D Groove Alliance, working with entrepreneur Chris Kantrowitz and programmer Peter Laufenburg. He was the CEO of The 3D Groove Alliance until 2003, when Joseph Varet became the new CEO.
The first game Jules Urbach worked on was Hell Cab, a pre-rendered point and click adventure game from the early 90s. He has stated that his inspiration for Hell Cab was Dragon's Quest, and that for him it was an important step towards the convincing virtual reality work he does today. In 1995, Urbach, working at DesignFusion, helped program the game Real Pool, which was later recycled into a webgame which made use of the 3D Groove engine. During his time at 3D Groove, Urbach oversaw the games being made in the engine.
Urbach has also expressed his interest in anime. In 2006, he hinted at a possible Battle of the Planets movie that never came into fruition, and released a small variety of CGI animated Battle of the Planets clips via his JulesWorld channel.
The circumstances under which Urbach left 3D Groove are unknown.
On Twitter, Urbach has expressed interest in releasing the remaining lost 3D Groove games, but has not because thus far he has been unable to find them again.