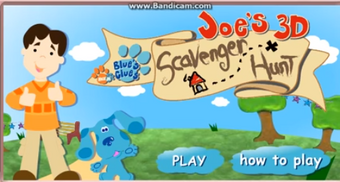 Blues Clues 3D Scavenger Hunt is a 2002-2003 range game that ran on the 3D Groove engine made for Nick Jr.
Gameplay Features
[
]
In the game you take control of Joe and go to the four locations to look for items instructed by Mailbox. The four locations are the Blues Clues house, the park, the school, and the grocery store and the correct location blue appears. There is a set number of items depending on the difficulty.
Trivia
[
]
The gameplay of this game that PollyPocketFan78 made on her channel is her most viewed gameplay as well as her most viewed video.
Normally you can't walk in the grass unless you pull off a glitch with the basketball hoop at the park and if you do a trick there you can walk in the grass and you can make it all the way past the background.
Gallery
[
]